When it comes to sustainability reporting, there's a lot of pressure on companies that are publicly traded to prove that they are managing their financials in a responsible way. Companies like Walmart have taken steps to demonstrate that they are making progress in the areas of their business most relevant to investors. This includes reporting on the Environmental, Social and Governance (ESG) factors that can impact an organization's bottom line and its ability to grow over time. This blog is intended to provide insights into how these reports work and what you can do with them. We will look at the Walmart ESG report, their current reporting structure, as well as analyze how other major companies like Nestle, Unilever and BASF measure ESG performance in their operations.
What is ESG reporting?
ESG reporting is an increasingly popular way for companies to communicate with stakeholders about why they are doing things the way they are. Reporting on ESG factors can help companies improve their performance, identify opportunities to improve their bottom line, and give stakeholders a clearer picture of where the business is headed. Investors and other stakeholders are looking for improved transparency in order to help the business meet their goals. But, the way companies measure ESG can also be a point of contention. Some ESG issues (like climate change) are more controversial than others, while others (like payment diversity) come with practical considerations that differ from company to company. Each of these factors can impact a company's financial results and require an assessment of how it is performing on a range of factors.
How does Walmart measure ESG performance?
Because there is no standard way of evaluating the impact of an organization's ESG performance, measuring it is a bit of a challenge. The Securities and Exchange Commission (SEC) requires companies to report on their environmental, social and governance performance. The SEC's guidelines are broad, and dictate what information companies are required to include. Key metrics like Total Energy Use (TEW), Carbon Footprint (CF) and Waste Generation (WG) are based on different standards and methodologies. To make things even more complicated, each metric has a wide range of acceptable outcomes and interpretations. In some cases, it's not entirely clear what a company is reporting.
6 key takeaways from Walmart's report
The opportunity to improve its ESG performance
Walmart has been tracking its ESG performance for a number of years and found that there was room for improvement in a number of areas. While overall the company is performing well, Walmart sees room to improve its carbon footprint and waste generation.
Increasing TEW
Walmart's TEW is the amount of energy used by the company and its suppliers. Walmart sees this as an important metric as it helps track energy use across the entire supply chain.
Improving WG & sustainability
Waste generated by companies is becoming a more pressing issue as cities and countries around the world grapple with the issue of landfill space. Walmart is well-placed to benefit from the growing trend toward sustainable products. Walmart's list of sustainable product innovations is long, and includes everything from renewable energy to healthier food options for families.
A well-considered sustainable investing strategy
Walmart's investment strategy provides a great example of what sustainable investing looks like in practice. Walmart is investing money in companies with good ESG performance, while also taking advantage of the SRI market.
Where does Walmart see investment opportunity?
Walmart is facing increasing pressure on its sales and image as more people turn towards e-commerce to get the products they need. While this poses a challenge for the company's traditional retail model, it also presents an opportunity to better understand and meet the needs of customers. Walmart sees significant growth opportunities in digital, groceries and groceries, and home furnishings and decor. In all of these areas,
Walmart sees the opportunity to bring its sustainable business model to a broader audience. And, it's also working to identify ways to make its financials even more sustainable. For example, the company is investing in the development of advanced technology like self-driving cars and trucks, which will reduce its carbon footprint. Walmart is also investing in digital tools that make it easier for customers to shop online and pick up their orders in stores.
What are Walmart's ESG risk factors
Although Walmart scores relatively high on environmental factors in our sentiment analysis, with an ESG score of 77/100 in this area, there is still room for improvement particularly around pollution and waste. Within social factors Walmart scores 58/100. Our in-house Walmart ESG report shows this is due to factors relating to employee rights, racial and gender discrimination,
Meanwhile, in the area of governance there are still key issues around product liability and corporate behaviour which is highlighted by their lower governance score at 32/100. A more detailed look at our in-house Walmart ESG report shows issues surrounding negligence, business ethics, product safety, anti-competitive behaviour and the use of public subsidies amongst other governance misdemeanours.
Currently our Walmart ESG report shows that they have met 12 out of 17 UN sustainability goals.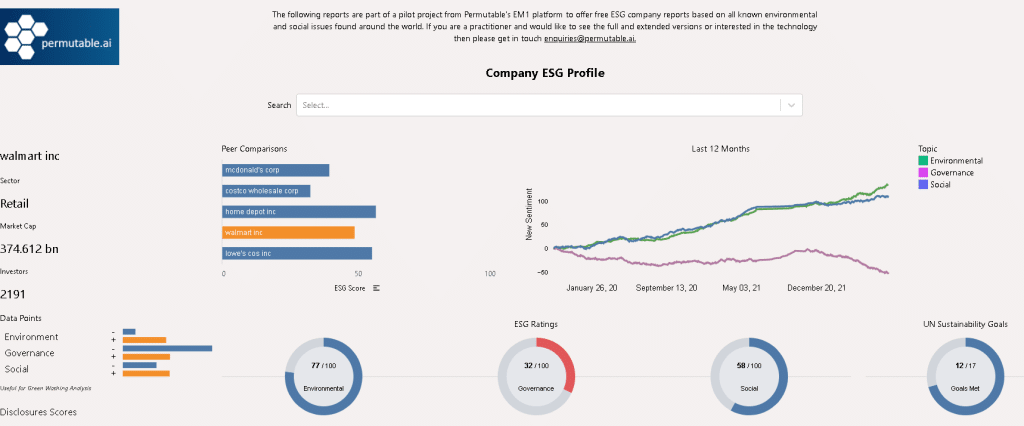 Walmart and greenwashing
Keeping in mind Walmart's score on environmental factors above, it is important to note that in 2022, Walmart was hit with a $3 million greenwashing penalty by the Federal Trade Commission for deceptive claims made about some textile products.
The FTC alleged that Walmart wrongfully marketed at least two dozen textile items as made from bamboo and produced using eco-friendly processes when the items were in fact made from rayon—and converting bamboo to rayon "requires the use of toxic chemicals and results in hazardous pollutants," the FTC stated in a news release. However, it is interesting to note that in an extraordinarily timely fashion on the very same day, Walmart announced the launch of Walmart's Circular Connector, an online tool aiming to bridge the gap between companies searching for more sustainable packaging ideas and those that offer them.
As more companies adopt strategies like reduced packaging, carbon-neutral operations and responsible sourcing, the need for ESG metrics will continue to grow. While there are risks associated with reporting on these factors, companies who commit to reporting on them can better inform stakeholders about their sustainability efforts.
These reports can also help investors better assess the potential for companies to meet their long-term business goals. Sustainability is a core part of Walmart's business, and the company has been leading the way in advancing sustainable business practices, but there is still room for improvement.
See how Walmart stacks up against their competitors
Walgreens Boots Alliance ESG report
Access the free version of our Walmart ESG report here or get in touch to request our more comprehensive report.